Sex Parties and Sex Acts
By Dr Michelle Mars
sex.scoop.co.nz
World politics has taken a turn for the better with the introduction of a main stream political party that takes sex seriously, the Australian 'Sex Party'.
The Sex Party is responding to gender inequalities in politics, antiquated and ad hoc laws around sexuality and sexual expression, and political hypocrisy around sex.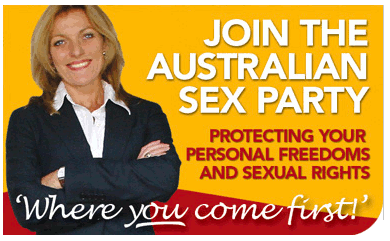 While Australian politicians are supportive of the need for law reform they are not prepared to risk losing votes by supporting the Sex Party's agenda. With Prime Minister, Kevin Rudd, set to address the Christian Lobby's National Conference in November you can see that family values votes are a valuable commodity in Australia.
Australian politics suffers from wowzerism according to Patten. It caters to the wowzers, 'the non smoking, non drinking, non risk taking, no fun person and there are a lot of them in Parliament'. Interestingly it seems the sex party gets a far better hearing from women politicians than from men. Men are frightened by the subject 'they don't want to be seen as the man in the plastic raincoat'.
Patten is keen to expose the unrealistic cultural norms and outmoded values underpinning much of the law relating to sexuality. 'As a community Australians tend to be sexually liberal but politically it's the opposite'.
Like New Zealand, Australia has a history of loose and precarious censorship legislation. Currently the Federal Government allows pornography but the States introduce their own legislation. So this means that in New South Wales the wide variety of X-rated porn for sale in the ever popular Kings Cross is actually illegal. Depictions of spanking are illegal and you can't say F* you in a porno movie.
Sydney and San Francisco may be the most liberated places in the western world when it comes to free expression of sexuality but the law lags far behind. Policies on same sex unions mean that cohabiting same sex adults are responsible for the care and welfare of their partner and children but have no legal relationship to the children. They have no rights to adopt their own non-biologically related children. The sex party has plenty to work with if they are planning to challenge legislative hypocrisies such as these.
How does one become so passionate about sexual rights that they make it their mission to get sex into parliament. Patten's history is as interesting as the party itself, she began with a successful fashion business. Many of the clients were sex workers and this led her into the sex industry and on to run for election on a sex industry platform in the Canberra local body elections. Her unlikely bedfellows in the elections were a Monk and a disgraced former Government Minister, all united in their belief in an individual's right to choose. She then went to a career as lobbyist and President of Australia's adult goods industry organisation, The Eros Association which is involved in running Australia's highly successful Sexpo's . Patton has had a history of making sexual politics visible.
I would vote for Fiona Patten. It's time that sex policy reflected reality. Attitudes towards sex have changed a lot in my life time. Sex was for marriage, masturbation was best not talked about and homosexuality was illegal. I remember the homosexual law reform protests at Christchurch's Cathedral Square in the 1980's and my father' attractive pant-suit wearing female boss lived with her 'very good friend '. Now-a-days we won't go blind if we masturbate and a lifetime spent only having sex with one person is no longer the norm. But if we want things to continue to change we need to consider how law change might improve our sex lives.